MediaINFO - Digital Content Publishing, Management & Viewing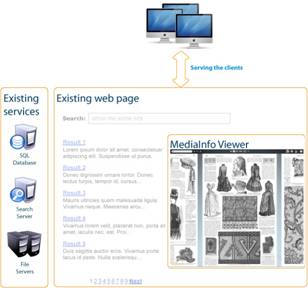 ITSI, LLC is the official representative of Geneza of Slovenia (http://www.geneza.com/) in the USA and Africa. Geneza's flagship product MediaINFO can be purchased from ITSI. MediaInfo brings all digitized documents (books, magazines, maps, building plans, etc) to the web while preserving the originals. It transforms the way an organization views, shares and distributes the content of their digital library. MediaINFO contains administrative, cataloging, search and browsing components, allowing you to build new digital libraries or to expand and extend the capabilities and functionalities of existing infrastructure (for example: search, bibliographic repository, JPEG 2000 repository/server).
With MediaINFO (http://www.geneza.com/mediainfo.php) the entire digital library can be searched. With the support for BOOLEAN and PROXIMITY operators, MediaINFO makes searching easy and it satisfies the more sophisticated needs of demanding users. It also allows filtering and searching through Author/Title/Date Range/Publication metadata. Advanced search options allow the specification of detailed search criteria, which can be added or removed easily. The Display of result will show thumbnails of the original scans, with highlighted zones where each result is found. The user can also see any metadata related to the matched result and a small synopsis. Content that requires a purchase displays a shopping cart icon which guides user through the entire buying process.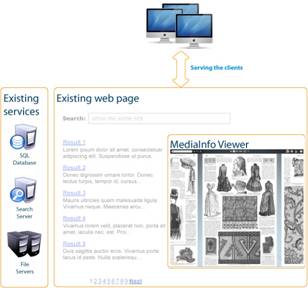 Key MediaInfo Features include:
Searching allows advanced faceting, boolean search, stemming, wildcards, date ranges


Viewing as virtual book with page flipping or advanced zoom view


Personal Library allows creation of your own catalogue


Protecting Ownership Rights by locking content and keeping control of the cost and access level